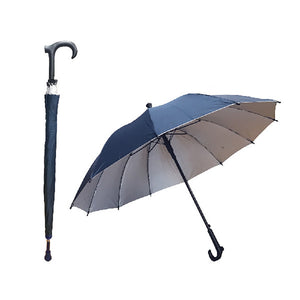 2-in-1 Umbrella Walking Stick
Not all walking sticks are made equal.
This isn't just a walking stick, it's also an umbrella. A 2-in-1 walking stick is able to provide you with the best protection from heavy rain or from the sweltering heat. It'll change into a walking cane that offers discreet support while walking outside.
Made from water resistent polyester which inherently serves well in nasty weather, and it blocks 40% of the UV rays from the sun.
Tipped with anti-skid rubber ferrule, thanks to its shape & support, you can stand more safely and firmly.       
With its sturdy frame construction, exquisite design & a large hand grip. You can count on it for daily use.  A perfect gift for parents or grandparents who need it.