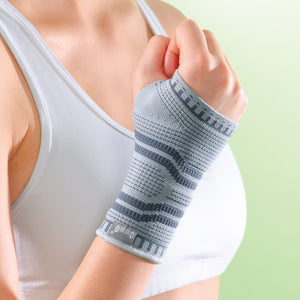 OppO AccuTex Wrist Support 2980

What is Accutex?
3D Knitting: Anatomical fit around the contour of the joint for perfect body compliance. Allows for a precise fit and optimum support to ensure the highest level of protection during rehabilitation.
Multi-compression Levels: Three compression levels from gentle, moderate to high densities provide a targeted support to stimulate musculoskeletal system for muscle activation and joint stabilization.
Product Feature:
Parallel double liners around forearm generate firm support to radius and ulna bones, reinforcing wrist stability.
Contoured below palmer crest without limiting fingers motion.
Provides optimal flexibility for thumb movement.
Application: